Last month, I spent several days staying with some friends in Brooklyn, New York who've been working full-time with Occupy Sandy's relief/rebuild efforts. While the devastation wrought by Hurricane Sandy has been heartbreaking and the lack of federal response infuriating, the kind of connectivity and mutual aid that has emerged in the resulting months is nothing short of inspirational. And profoundly educational.
Here are the meeting minutes from the network-wide Occupy Sandy meeting I attended right before the December solstice. It was the most well-facilitated meeting I've ever participated in, with the focus primarily being upon sharing updates from representatives of the disparate groups organizing Sandy relief efforts in the Far Rockaways, Red Hook, Coney Island, Staten Island, Long Island, and beyond. As Christmas was approaching, the core issue revolved around the many thousands still without heat or electricity. In the Far Rockaways, over 20,000 residents were still without power as freezing temperatures approached. FEMA, overwhelmed and underprepared, had all but handed over its limited resources to the Occupy Sandy camps that had popped up within days of the superstorm. Only this week – more than 75 days after the storm – did Congress approve a bill to send long-overdue federal aid to Sandy victims.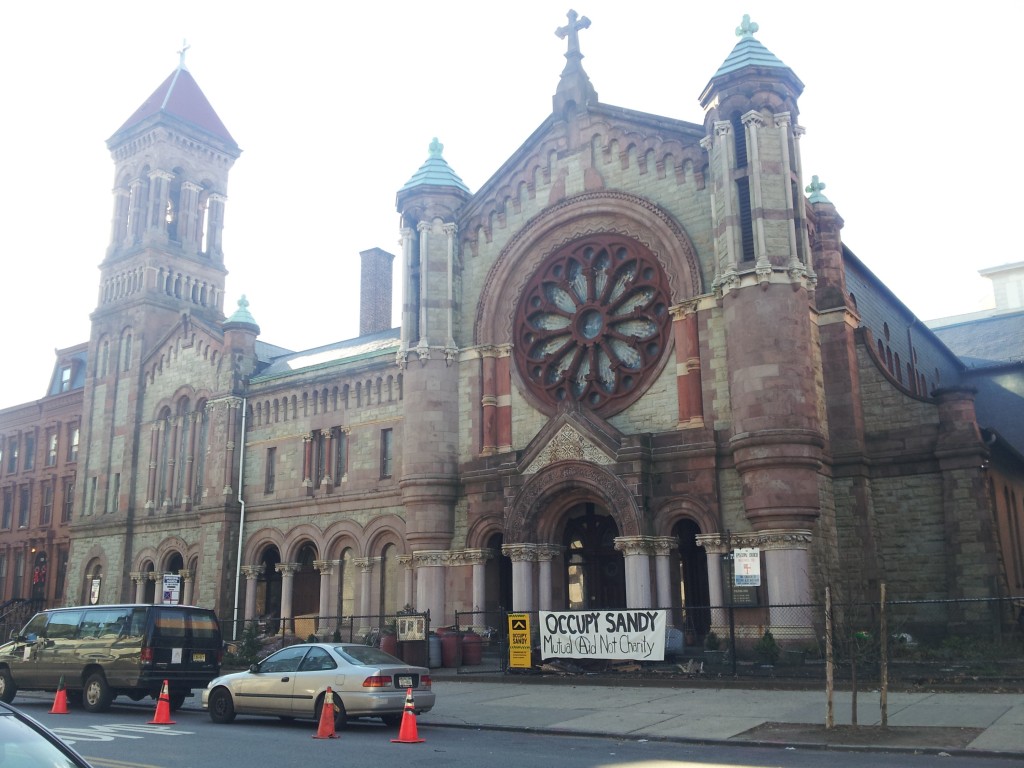 Occupy Sandy, the central hub of which was the amazing Church of St. Luke and St. Matthew (pictured above) in Clinton Hill, Brooklyn, sprung to work less than 48 hours after the storm. Tens of thousands of volunteers have since coordinated donations, trained new volunteers, cooked meals for masses of people, scraped mold off of buildings and homes, and assisted residents in completing the paperwork needed for securing governmental aid and navigating insurance claims. There is still a good deal of work to be done to rebuild the neighborhoods destroyed by Sandy, instilling in me a resurgence of passion to develop human and communications infrastructure in preparation for the kinds of crises that can arise when the infrastructure we typically depend upon falls apart.
My experiences in New York were concomitant with the exciting news that I'd been accepted for an internship with the Open Technology Institute sponsored by GNOME's FOSS (Free and Open Source Software) Outreach Program for Women. Specifically, I've been tasked with the work of designing use cases for community wireless mesh network applications such as TidePools, a neighborhood mobile mapping platform. TidePools was designed around the particular needs of residents in the Red Hook district of Brooklyn: reporting civic issues such as broken street signs; adding nicknames for the areas around the neighborhood; sharing information about local events; and creating an alert system for the often-spotty public transportation schedules. The potential uses of the platform are too numerous to mention and very much contingent on local context.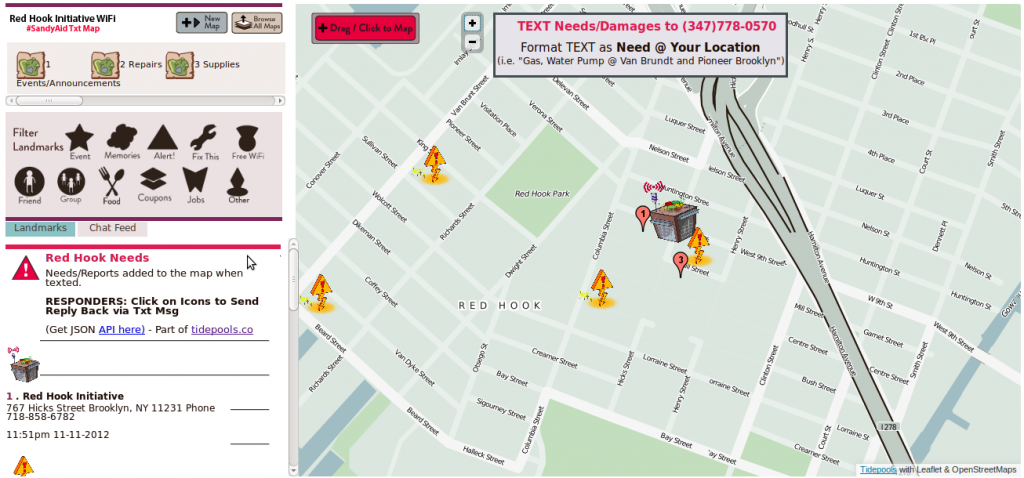 Post-Sandy, a TidePools node (pictures above) was deployed for mapping out local needs, sent by residents and volunteers via SMS text messaging for use by first responders seeking up-to-date information on where supplies such as food, water, gas and generators were needed.
You can learn more about my ongoing work for the Open Technology Institute by stopping by the TidePools wiki, where I'm collating ideas, use cases and research surrounding community mesh networking and mapping applications. I'll also be blogging regularly about mesh applications here, focusing on stories that demonstrate how we can use this technology to facilitate coordination and communication in our local communities. For the latest updates on the Occupy Sandy relief efforts, please visit the online hub at InterOccupy.net.